December 1, 2020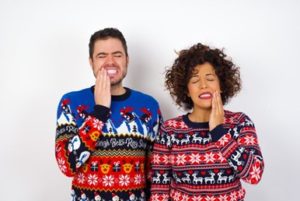 During the holidays, many people gather with their friends and family members to share good times and good food. But if your time is interrupted by a sudden visit to your emergency dentist in Wharton, it can damage your festive mood and your wallet. Here are 4 tips to help you avoid unplanned visits to the dental chair.
Drink Plenty of Water
Water may not be as festive as eggnog or spiced apple cider, but it is definitely much better for your teeth. Drinking water rinses away any food or particles that may stick around long after your snack attack and dilutes the acid produced by cavity-causing bacteria. It is also great for your body and will help keep you feeling full and reduce your chances of eating too much holiday food.
Reduce Your Sugar Intake
It's very likely that sugary treats will be in abundance this holiday season. Unfortunately, the more you eat, the more the sugar feeds the harmful bacteria on your teeth. The acid from these bacteria can cause enamel erosion and lead to cavities and gum disease. In addition to reducing your sugar consumption, try chewing sugar-free gum after eating sweets. This will help increase saliva production, which neutralizes the acid that cause tooth decay.
Take Proper Care of Your Teeth
Brushing your teeth and flossing regularly may seem simple, but it's much more important than you may think. Tooth decay and gum disease can weaken your teeth, making them more vulnerable to infection, cracks, chips and breaks. Brushing twice a day with a fluoride toothpaste and flossing at least once a day minimizes the amount of plaque and bacteria in your mouth. It also reduces your risk of dental decay.
Make Regular Visits to the Dentist
Going to the dentist for dental exams and cleanings twice each year is one of the best ways to protect your oral health. Not only will the stubborn plaque deposits on your teeth and below your gumline get removed, but your dentist will also examine your mouth for signs of gum disease and other serious conditions, like oral cancer. Your dentist can also spot and take care of any potential issues before they cause too much trouble.
There is never a convenient time to deal with a dental emergency. These preventive care tips can help keep you with your loved ones and out of the dentist's chair this holiday season. But if you do have an unexpected dental trauma, it is very important to contact your dentist right away!
About the Practice
The doctors and staff at Wharton Dental are committed to providing their community with quality comprehensive care that is personalized for each patient. Dr. Phil Tiet received his doctorate from the University of Texas School of Dentistry at Houston, completed his residency at the USAF dental corps and has been transforming smiles for more than 20 years. Dr. Monica Gerges completed her doctorate at the University of Texas Health School of Dentistry at San Antonio and is dedicated to helping people feel more confident about their smiles. Their services range from preventive care to restorative and emergency dentistry. For more information, visit the website. But if you have a dental emergency, contact the office right away at (979) 532-1920.
Comments Off

on 4 Ways to Reduce Your Risk of a Dental Emergency
No Comments
No comments yet.
RSS feed for comments on this post.
Sorry, the comment form is closed at this time.