Meet Dr. Phil Tiet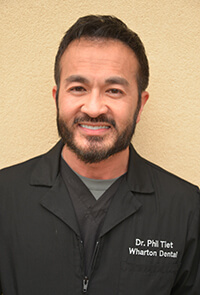 Dr. Tiet has been working in dentistry for 24 years and counting. He attended Texas A&M University (Gig 'Em Ags!) before moving on to earn his doctorate at the University of Texas School of Dentistry at Houston. He then completed his one year General Practice Residency in the USAF dental corps in Omaha, NE. Today, he has completed training in several additional services for the benefit of his patients, including Invisalign, Lumineers, Botox, Juvederm, and Robert Gerty Straight Wire Orthodontics.
Dr. Tiet's favorite part of his job is being able to use his skills to help people feel better about their mouths and their smiles. He feels very lucky to have a career that gives him joy year after year and to be able to work with a staff that's so wonderful he considers them family.
Dr. Tiet is from Suger Land, and he is a single dad with two sons (ages 11 and 17). Whenever he has free time, he enjoys watching movies, traveling, going to the gym, reading, and sleeping. In fact, he loves sleeping so much he'd rather sleep than eat. One interesting fact about him is that he is fully double-jointed in some areas!