Dental Checkups and Cleanings
Keep Your Smile on the Right Track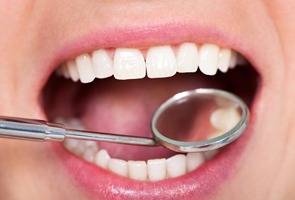 Only about one-third of Americans visit their dentist for a checkup and cleaning every year, according to the American Dental Association. As you might have guessed, that's not nearly enough. These appointments are necessary to keep your smile on the right track. By examining your mouth for any problem areas and polishing your teeth, these twice-a-year visits can help you maintain a healthy smile. If it has been more than half a year since the last time you saw your dentist, give us a call today to schedule your next appointment.
What Happens During Your Dental Checkup?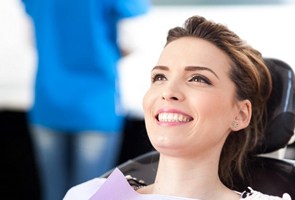 During the first portion of your appointment, your dentist in Wharton will thoroughly examine your teeth, gums, tongue, and other oral structures to make sure everything looks good. We'll check for problems like infections, tooth decay, and even oral cancer by using special tools like digital x-rays. These tools allow us to diagnose problems that can't be seen by even our trained eyes. It's imperative that you get these x-rays taken at least once a year to check for signs of cavities in between the teeth. If issues like that are caught early enough at your checkup, then treatment is still relatively simple and affordable.
What Happens During Your Dental Cleaning?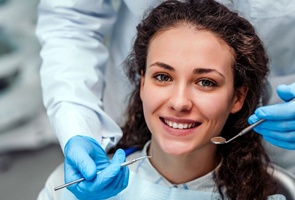 After the doctor has given your mouth a thorough once-over, one of our dental hygienists will take it from there. They will use special tools to clean plaque (and its hardened form, tartar) from areas of your mouth that you might have had a hard time reaching with your toothbrush and floss alone. Then, they will polish your pearly whites, removing minor stains and leaving them shining a little bit brighter. The polishing material will also temporarily make it harder for bacteria to attach to your teeth, protecting them from cavities.
Why Are Dental Checkups and Cleanings So Important?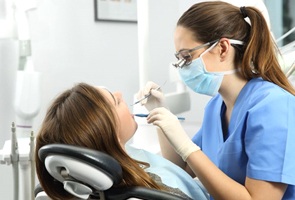 Many people are under the impression that if they already brush and floss twice a day, that they don't need to come in for a dental checkup and cleaning every six months. However, this couldn't be further from the truth. Unfortunately, even people who are incredibly diligent in their oral hygiene regimen are still susceptible to problems like cavities and gum disease. These issues often don't display noticeable symptoms like pain until irreversible damage has already been done. That's why you should see your dentist in Wharton at least twice a year to diagnose these problems before they cause harm.
In the grand scheme of things, dental cleanings are just as important. You can easily get rid of plaque with daily brushing and flossing, but once it hardens into tartar after about 12 hours, only a trained dental professional can remove it. That's where your dental hygienist can help. Plaque and tartar are both full of harmful bacteria that can cause gum disease and cavities. Gum disease in particular has been linked to a whole host of health problems, including diabetes and heart disease. For this reason, you'll want to attend regular dental cleanings at least once every six months.