Cosmetic Dentistry
Create Stunning Transformations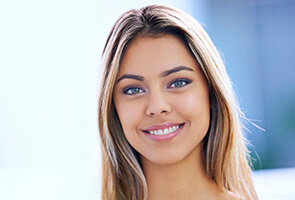 A person's confidence and enthusiasm is all-too-often heavily impacted by the way they feel about their looks. If you have dull, damaged, or otherwise imperfect teeth, don't let them hold you back – visit Wharton Dental for the smile makeover plan of your dreams! Dr. Phil Tiet and Wharton Dental offer several cosmetic services that can create dazzling results, and our team will work with you closely to ensure that our recommended treatments fit your needs as perfectly as possible. Contact our Wharton, TX office today to schedule a consultation.
Porcelain Veneers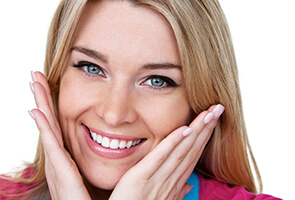 Porcelain veneers are high-quality, customized restorations that are designed to be thin enough to fit over the front surfaces of certain teeth, effectively hiding years of flaws behind a new, beautiful outward appearance. Veneers are often a great cosmetic solution for patients who feel overwhelmed by the number of aesthetic flaws they're facing; instead of undergoing multiple, time-consuming procedures, veneers can be completed in just a few appointments. They can also benefit patients who are seeking relatively minor orthodontic corrections and don't want to undergo traditional treatment.
Learn More About Porcelain Veneers
Lumineers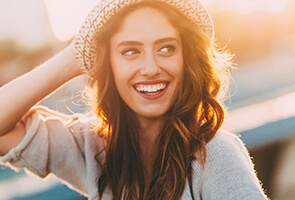 While traditional veneers are very effective in creating the dazzling results image-conscious patients are looking for, it's important to keep in mind that they are a permanent solution. Because of this, our doctors also offer Lumineers as a no-preparation, reversible alternative that still provides beautiful and durable results. If you're unsure which option would be best for you, please contact us to schedule a cosmetic consultation! We want to create a treatment plan that fits your personal needs, available time commitment, and budget as closely as possible.
Metal-Free Dental Restorations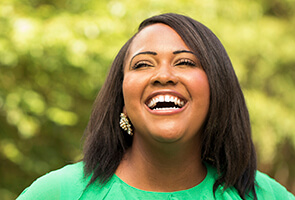 Our team understands very well that in today's world, patients are looking for restorative solutions that promise aesthetic quality in addition to improved oral health. That's why Wharton Dental primarily offers metal-free crowns, inlays, onlays, and other restorations that are designed with your unique smile's look and color in mind, resulting in a beautiful, seamless addition. The ceramic material is so high in quality that it even reflects light in the same way as your natural enamel!
In addition to their appearance, metal-free restorations also offer other advantages when compared to their traditional counterparts. They're durable and comfortable, causing less irritation to the gum tissue over time. They're also completely biocompatible, which means patients who've struggled with sensitivity (or outright allergies) to dental restorations in the past can now enjoy them safely and happily.
Direct Cosmetic Tooth Bonding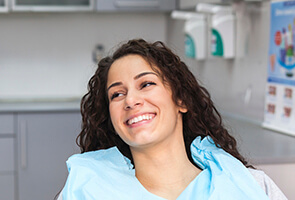 Direct bonding (also known as cosmetic bonding) is a great, affordable treatment option for patients who need to repair small imperfections on their smile, such as chips or stains. During this procedure, one of our doctors will carefully apply composite resin (the same material that tooth-colored fillings are made from) to the affected area and sculpt an addition that looks natural before hardening it in place. During an in-depth consultation, we can let you know whether or not direct bonding will suit your needs and create the results you're looking for; when faced with more significant damage, a custom veneer or crown may be preferable.
Teeth Whitening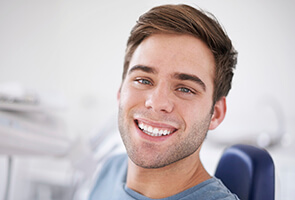 If your teeth have become stained or dull over time, there are several possible causes to blame, from diet to oral hygiene to simple genetics – but what really matters is finding the best solution that can restore a healthy, happy glow to your smile. At Wharton Dental, our team offers Lumibrite Chairside Whitening, which is safe, comfortable, and lightning-fast. Depending on your whitening needs, the treatment can be completed in as little as 30 minutes, and our patients will surely be grinning at the results.
Alternatively, Day White take-home whitening kits are available for patients who'd prefer to improve their smile in the comfort of their own home. We'll provide the whitening formula and custom-molded oral trays – you simply need to wear both together twice each day for 30 minutes at a time. In addition to improving the brightness of your teeth, Day White has been shown to help rebuild tooth enamel and reduce tooth sensitivity as well!
Learn More About Teeth Whitening
Crown Lengthening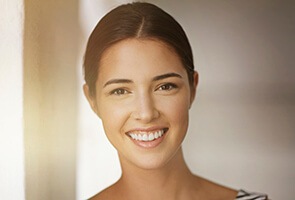 Sometimes, a lacking smile isn't caused by your teeth at all – it's the result of uneven or excessive gum tissue, which causes an overly "gummy" appearance. In this situation, our Wharton Dental team will perform a crown lengthening procedure by removing excess tissue and sculpting your gum line to reveal more of the healthy, beautiful tooth structure underneath. We want patients from Bay City, TX and surrounding areas to love what they see in the mirror when we're finished!
Invisalign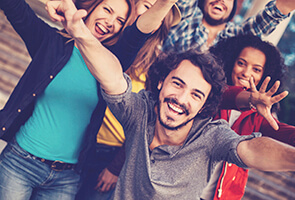 Many discerning adults and teenagers want to achieve a straighter smile, but they just can't commit to years of wearing noticeable metal braces. Thankfully, Invisalign is a worthwhile, cosmetic-minded alternative. This treatment consists of clear plastic aligners that are inconspicuous and removable, which means you can still enjoy all your favorite foods throughout the process. All the patient has to do is wear each aligner as directed and attend brief check-ups here at Wharton Dental – before you know it, you'll be enjoying sensational improvements.