Dentures
Regain Your Complete, Confident Smile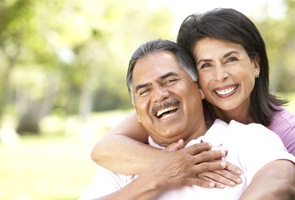 Even though modern dental technology and techniques make it easier than ever to maintain our oral health, tooth loss is still a wide-spread issue. Studies estimate that 120 million Americans are missing at least one tooth, and more than 36 million are missing all their natural teeth. If you have gaps in your smile or are missing an entire arch of teeth, you already know that tooth loss can make it harder to speak clearly, eat comfortably, and smile confidently. At Wharton Dental, we can help you regain your complete, confident smile right away with dentures in Wharton! This classic tooth replacement option is more lifelike, more comfortable, and more functional than ever before, so give us a call today to see if dentures are a good choice for you!
Full Dentures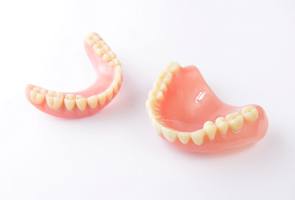 If you're missing an entire arch of teeth, full dentures can replace them all at once. These restorations consist of a full set of custom-made replacement teeth set into a single acrylic, gum-colored base. The base is precisely crafted to ensure that your dentures fit snugly and comfortably on top of your gums. This close fit helps them stay securely in place with natural suction or a minimal amount of denture adhesive. The teeth are made from high-quality materials that are well-known for their lifelike appearance and reliable durability.
Partial Dentures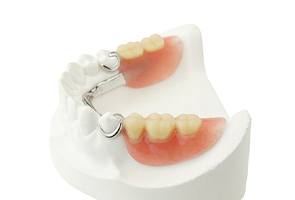 For patients who are missing several consecutive teeth, partial dentures may be a great choice. These custom-made restorations are just like full dentures except that they only replace a few missing teeth at a time. A partial denture seamlessly fills in the gaps in your smile just like a puzzle piece. It's held in place with a few small metal clasps that discreetly wrap around your remaining teeth. Not only do partial dentures give you a complete set of pearly whites, but they also help prevent the surrounding teeth from drifting into the open space and becoming crooked.
Implant-Retained Dentures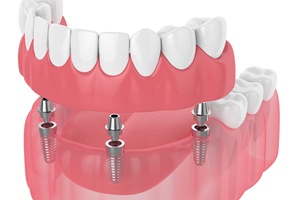 While traditional removable dentures are more reliable and comfortable than ever, they're not your only tooth replacement option anymore. If you're a good candidate, we can anchor your dentures in place with dental implants. For this method, a few small, titanium posts are surgically placed in your jawbone to provide a sturdy, comfortable foundation for your full or partial dentures. While this process typically takes longer than traditional dentures, the results can potentially last a lifetime.
Maintaining Dentures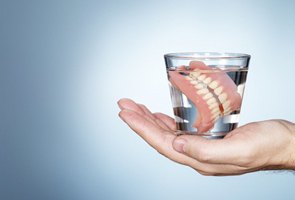 Unlike natural teeth, dentures aren't vulnerable to cavities. However, it's still important to keep them clean to maintain great oral health! Thankfully, this isn't a difficult task. To keep your new smile sparkling and strong, be sure to keep these tips in mind:
Use the right dental products: Normal toothbrushes and toothpastes can scratch and weaken your dentures, so be sure to only use a soft denture brush and non-abrasive denture cleaner.
Clean your dentures regularly: You should clean your dentures at least once a day. Otherwise, the buildup of plaque and bacteria can put you at a higher risk of oral infections and gum disease.
Don't forget to soak your dentures: Every night, soak your dentures in a special denture solution or plain water. This helps keep them clean and promotes healthy gum tissue.
To see if dentures are a good choice for you, call us today to schedule your consultation! We'll be happy to help you determine the best way to achieve the complete, confident smile you deserve!