Teeth Whitening
Get a Bright Smile Today!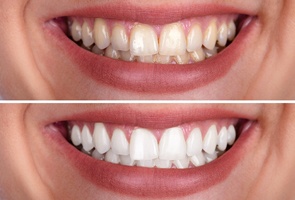 Has your smile lost its luster? You're not alone. Tooth discoloration is a leading cosmetic concern because it can make you look years older than your true age. Not to mention, others may view you poorly based on the appearance of your teeth. You don't need to feel insecure about your smile. You can turn back the hands of time with professional teeth whitening in Wharton. Our office offers two effective solutions to combat tooth discoloration. We'll help you decide which treatment is best for you.
Causes of Tooth Discoloration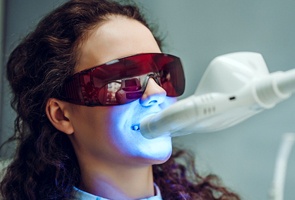 Not everyone is born with naturally white teeth. Genetics can also influence their color. In addition, age also plays a role. Over the years, your enamel will thin, causing more of your yellowish dentin to show. This can make your teeth look darker. Besides age and genetics, tooth discoloration can also be caused by the foods and drinks you consume. Certain lifestyle habits can create stains and premature discoloration, like poor oral hygiene or smoking.
No matter the cause, we have the solution you need for a drastic improvement in the appearance of your teeth. You can get a bright smile in-office or at-home using one of our professional treatments.
In-Office Whitening Treatment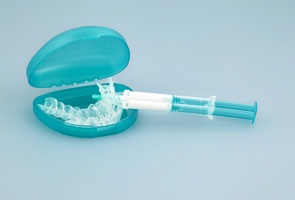 You can get your teeth as much as 8 shades brighter after just one appointment. Our office uses the Lumibrite® Chairside Whitening System. It's a preferred solution among patients and dentists because it provides gentle, fast, and effective results using a specially formulated hydrogen peroxide gel. The whitening agent helps reduce sensitivity using a desensitizing gel. It's also available in formulations with or without fluoride for your specific needs.
This is the ideal option for patients who want on-the-spot treatments. You'll enjoy a drastic improvement in the color of your teeth after just one trip to the dentist.
At-Home Whitening Kit
We understand your schedule is busy. Not everyone has time in their day for a dental appointment, which is why we offer an at-home kit. Zoom DayWhite provides in-office results from the comfort of your own home. You'll enjoy the convenience of an over-the-counter product while achieving noticeable results that last.
The whitening gel contains hydrogen peroxide, making it the strongest take-home kit from the trusted brand Philips. The gel is specially formulated with ACP, fluoride, and potassium nitrate to minimize any sensitivity.
You'll use the kit around your own schedule for about two weeks. As each day passes, you'll notice your smile gradually becoming whiter. At the end of your treatment plan, your teeth can be as much as 8 shades brighter.
Enjoy a Bright, White Smile
Your results can last for several years with the right aftercare. You can help protect your investment by:
Brushing your teeth twice a day for 2 minutes each session.
Floss every day.
Limit your consumption of darkly pigmented foods and drinks.
Don't smoke or use tobacco.
Visit your dentist twice a year for a cleaning and checkup.
Get the bright, confident smile you deserve. Contact our office today to schedule your consultation for teeth whitening.