Dental Insurance
Get a Healthy Smile for Reduced Rates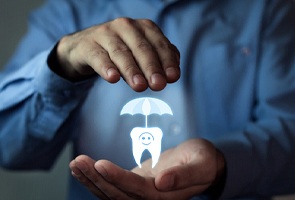 Everyone should have access to the comprehensive dental care they need to ensure their smile lasts for a lifetime. At Wharton Dental, it's easier to get the services you need without breaking the bank. We work on your behalf with your dental insurance in Wharton to reduce the amount you need to pay out-of-pocket for the services your smile depends on. Getting the routine care you need will keep your teeth and gums healthy to reduce your long-term dental expenses to save you even more money down the road.
How Dental Insurance Works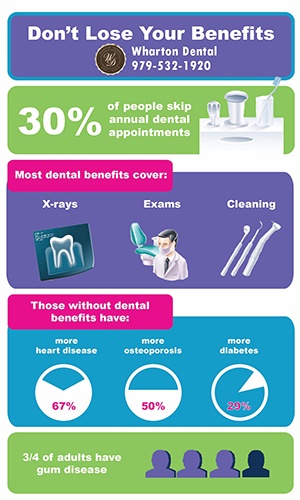 Every month, you pay your premiums for your specific dental policy. This gives you coverage for the services you need to keep your smile healthy. Visiting your dentist in Wharton every 6 months for a cleaning and checkup decreases your risk of preventable issues, such as tooth decay and gum disease. This reduces your overall dental expenses. In fact, every $1 spent on prevention can save you $8 to $50 on restorative and emergency care.
100% preventive care
80% minor restorative care
50% major restorative care
Medical Insurance VS Dental Insurance
People often think medical and dental insurance are the same, but they are quite different. Dental insurance focuses more on prevention to reduce your risk of common oral health issues. This lowers your overall costs for care; however, there are yearly limits and maximums you must abide by. Our office works on your behalf to file the necessary claims and paperwork to make the most of your annual coverage.
In-Network VS Out-of-Network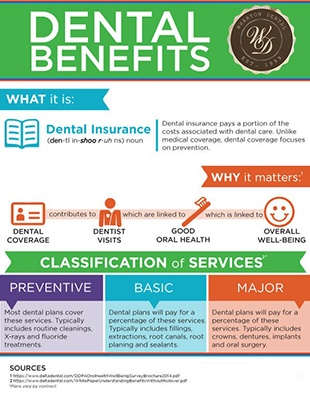 Your insurance carrier gives you the freedom to visit any dentist who accepts your insurance. We work with both in-network and out-of-network patients.
In-Network Coverage
Your insurance carrier recommends you visit an in-network dentist because they have pre-negotiated rates with your insurance company. We are proud to be in-network with many leading providers, including:
Assurant
Ameritas
Delta Dental
FCL
Humana
Medicaid
Out-of-Network Coverage
Although it's often recommended you choose an in-network dentist, you can still visit any office that accepts your coverage. We are proud to provide the care you need, even if you're outside of your network. We will file the necessary claims and paperwork, so you have one less thing to worry about.
With less than 3% of Americans meeting or exceeding your annual coverage, we don't want to see your benefits be wasted. We'll help you make the most of your policy to reach your oral health goals while staying within your budget.
If you have a question about your insurance plan, or you're ready to schedule an appointment, we're only a phone call away. Contact our office today to speak with a member of our team.