September 23, 2020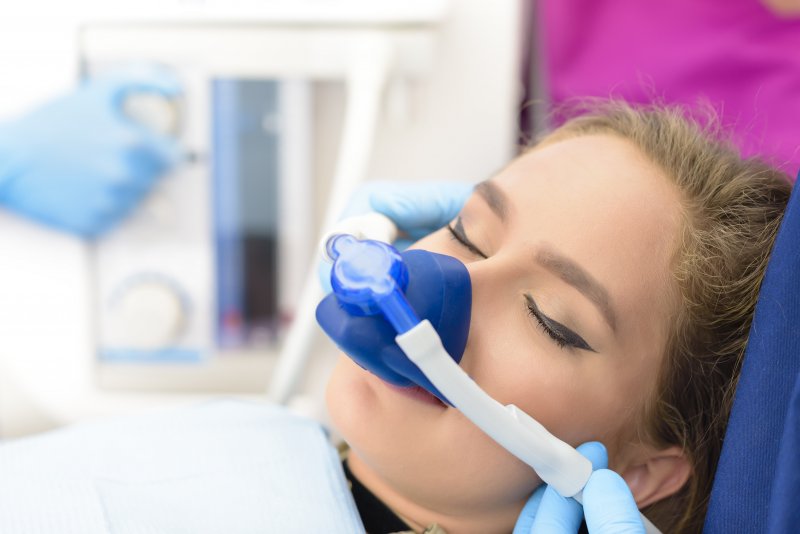 If you suffer from dental anxiety or dental fear, that doesn't mean that you need to give up dental care for good. The truth is that with modern dental technology and innovations, there is a solution for patients who become nervous just at the thought of going to the dentist. Sedation dentistry is becoming more and more popular as a way to suppress dental phobia so anxious patients can get the care they need, but is it safe? Continue reading to learn more from your sedation dentist in Wharton about sedation dentistry and its safety.
What Is Sedation Dentistry?
Sedation dentistry covers a variety of different techniques that are used to calm a patient before or during a procedure or make a patient more comfortable, especially during longer procedures. You have a couple of different options:
Nitrous Oxide Sedation: For patient who have mild to moderate dental anxiety, nitrous oxide is a great option. You probably know it as "laughing gas." A small mask is placed over your nose and you will breath in a colorless, odorless gas. After just a few seconds, you will begin to feel more relaxed but stay conscious the whole time. The effects wear off quickly so you can even drive yourself home afterwards.
Oral Conscious Sedation: If your anxiety is more severe, your dentist may recommend this method. You will take an anti-anxiety pill about an hour before the start of your appointment. By the time a trusted friend or family member takes you to the office, you will be perfectly relaxed. You will remain conscious and be able to answer questions and respond to directions given to you by your dentist, and many patients don't even have much memory of the appointment afterwards.
Is Sedation Dentistry a Safe Option?
When your dentist is administering any type of sedative or anesthetic, your safety is always their number one concern. That's why they carefully adhere to all medical guidelines regarding these techniques and the administration of them. Before administering any type of anesthetic, your dentist carefully considers your medical history including health conditions, medications, and lifestyle habits that could interfere with certain methods. Your dental team also closely monitors your vital signs to make sure everything is going as expected throughout your treatment. With all of these precautions taking place, you can rest assured that you are safe in the hands of your dentist. Nitrous oxide sedation is even safe when administered for children during treatment.
Your dentist would be happy to discuss any concerns you have about different sedation methods. With your safety and well-being as a top priority for your dental team, you can have peace of mind that you are safe when choosing sedation dentistry as a solution for your dental anxiety.
About the Author
Dr. Phil Tiet is a well-experienced sedation dentist who has been working in the field for 24 years so far. He earned his doctorate at the University of Texas School of Dentistry at Houston and has completed training in a variety of different services. For more information on your sedation dentistry options or to schedule an appointment with Dr. Tiet, visit his website or call (979) 532-1920.
Comments Off

on Is Sedation Dentistry a Safe Option?
No Comments
No comments yet.
RSS feed for comments on this post.
Sorry, the comment form is closed at this time.