July 7, 2020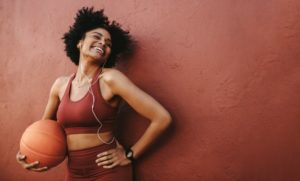 Invisalign in Wharton is a great way to straighten your teeth without all the restrictions of traditional metal braces. Since they're clear, comfortable, and removeable, they allow you to keep enjoying all your favorite foods and activities on your journey towards your ideal smile. However, you may have some questions or concerns about this modern orthodontic treatment if you're active. Here's what you need to know about staying fit while wearing Invisalign aligners.
Can Invisalign Work Like a Sports Mouthguard?
Invisalign aligners and sports mouthguards are both designed to fit closely over your teeth, so some patients wonder if they can be used interchangeably. In short, the answer is a resounding no. They may look somewhat similar, but they function very differently. A sports mouthguard is strong and can cushion your mouth against impact. On the other hand, your aligners can easily break or come loose if you experience a blow to the face.
When Should I Take My Aligners Out When Playing Sports?
A good rule of thumb to follow is that if a sport typically encourages the use of a mouthguard, your aligners should be taken out. This includes contact sports, like:
American football
Hockey
Wrestling
Martial arts
Boxing
To ensure your mouthguard can provide as much protection for your smile as possible, never wear your aligners underneath.
What Sports Can I Leave My Aligners in for?
Less intense, lower-risk sports can be played while wearing Invisalign aligners. While they may involve some impact or jarring, they typically aren't traumatic enough to cause serious dental damage. It's generally safe to wear your aligners while playing sports like:
Soccer
Basketball
Cycling
Tennis
Gymnastics
Am I Wearing My Aligners Enough?
Remember, for your aligners to work properly, you need to wear them for at least 22 hours every day. If you find that you are removing your aligners frequently for hours at a time during practice or games, talk to your Wharton dentist. They will be able to advise you on how your active lifestyle may be impacting the length of your treatment timeline. Additionally, they'll work with you to find a compromise between your straighter smile and your favorite sport.
Invisalign aligners give you the freedom to engage in your favorite hobbies while correcting your crooked teeth. Remember to play it safe and follow these tips on participating in sports so you can keep your smile safe as it's straightened.
About the Practice
Wharton Dental has been keeping the smiles of Wharton, TX and the surrounding communities happy, healthy, and beautiful for over 15 years now. Dr. Phil Tiet and Dr. Fadi Haikal are pleased to offer spa-like amenities alongside state-of-the-art dental technology to ensure every appointment is as pleasant as possible. They have both taken specialized training to become Invisalign Certified and have helped countless patients comfortably and quickly achieve a straighter, healthier smile. If you have more questions about playing sports with your Invisalign aligners, they invite you to contact them via their website or at (979) 532-1920.
Comments Off

on Can I Wear Invisalign Aligners While Playing Sports?
No Comments
No comments yet.
RSS feed for comments on this post.
Sorry, the comment form is closed at this time.