April 12, 2020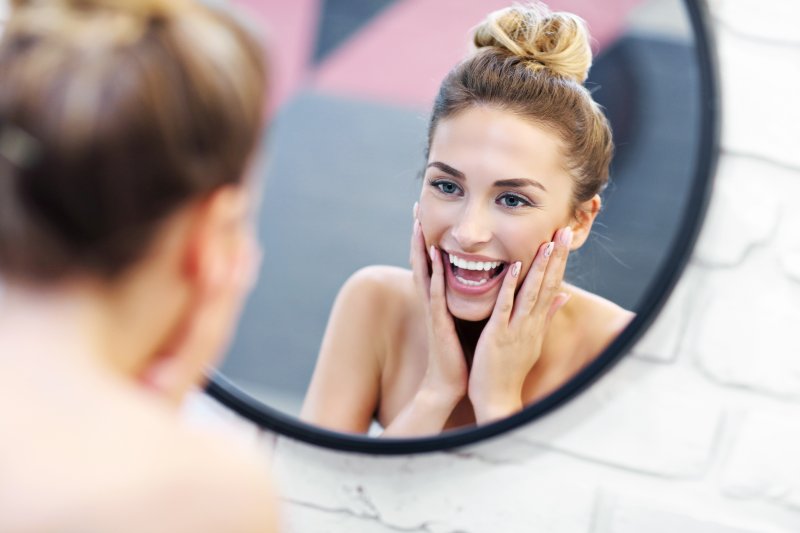 Life during the COVID-19 pandemic can be stressful. The last thing you want to have to do is book an emergency dental appointment. Given that, now is the perfect time to make sure that your oral hygiene habits are as good as they can be. Reevaluating your daily oral health regimen will keep you healthy and out of the dental chair. Your emergency dentist in Wharton has some recommendations to keep you healthy and help you avoid dental emergencies.
Eat for Your Oral Health
Most people rightly consider brushing and flossing to be the cornerstones of good oral hygiene. However, what you choose to eat and drink has an impact on your oral health as well. To protect your teeth, avoid sugary drinks and snacks, as they can make you more vulnerable to cavities and tooth decay. Instead, opt for foods that are high in fiber, like apples and celery. Fibrous foods can help to remove plaque from your teeth while you chew.
Foods that are rich in calcium and protein, such as cheese and nuts, are also great for your oral health as they can help to protect and strength your enamel. Making these simple adjustments to your eating habits can do wonders for the prevention of dental problems.
Stepping Up Your Hygiene
Since quarantine has so many people spending their entire day at home, now is the perfect time to augment your home hygiene habits. Your emergency dentist in Wharton suggests:
Using Mouthwash After You Brush and Floss: When used alongside regular brushing and flossing, mouthwash can help to keep your mouth clean, give you fresh breath, and help protect you from cavities.
Brushing Three Times Per Day: If you brush and floss after every meal, you're helping to keep your teeth clean all day. By removing plaque and food particles, you're at a lower risk for gum disease, tooth decay, and cavities.
Using a Waterpik: While brushing and flossing are great for your oral health, they are not able to reach under the gumline in the same way that water flossers can. By adding a Waterpik to your routine, you're clearing away particles that you otherwise couldn't reach and keeping your oral health optimal.
Using these simple techniques, you're at a much lower risk for developing a dental emergency. Brush and floss more often, be cognizant about what you eat and drink, and you're setting yourself up for success.
About the Author
Dr. Phil Tiet loves using his dentistry to make his patients feel better about themselves and their smiles. Since graduating from the University of Texas School of Dentistry at Houston, he has spent countless hours continuing his education to be able to provide comprehensive dentistry for his patients. If you'd like to learn more about what you can do to maintain your oral hygiene in quarantine, he and his team at Wharton Dental can be reached by email or by phone at (979) 532-1920.
Comments Off

on Avoid a Dental Emergency: Maintaining Great Oral Hygiene at Home
No Comments
No comments yet.
RSS feed for comments on this post.
Sorry, the comment form is closed at this time.