December 17, 2019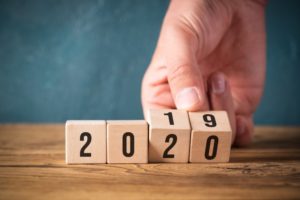 The holiday season, including New Year's Eve, is chock-full of opportunities for people to take your picture. If you're self-conscious about the way your smile looks, this can be anxiety-inducing for you. Luckily, there are ways to solve this problem, thanks to your cosmetic dentist in Wharton. Continue reading to learn five possible treatments to beautify your smile just in time for the new year.
1. Teeth Whitening
Maybe you indulged in a few too many lattes or glasses of red wine over the holiday season, and now your pearly whites aren't so pearly white anymore. Fortunately, your dentist offers two kinds of whitening treatment: at-home and in-office. Both use a bleaching gel several times more potent than anything you can buy in stores. Your smile is guaranteed to be several shades whiter by the end of your treatment, just in time for New Year's.
2. Porcelain Veneers
If you have so many flaws in your grin that you don't know what treatment would work best, veneers are a great place to start. These customized restorations are thin enough to fit comfortably over the front-facing surfaces of your teeth to mask all sorts of aesthetic imperfections, like chips, cracks, gaps, and stains. Instead of undergoing several different treatments for these flaws, why not get them taken care of in just a couple of appointments with porcelain veneers?
3. Lumineers
Although porcelain veneers are fantastic for creating beautiful smiles, they are considered a permanent solution, since some tooth enamel must be removed to make room for them. That's why your dentist in Wharton offers Lumineers as an alternative. These no-prep, completely reversible veneers are thin enough to fit over your teeth without sacrificing any of your natural tooth structure.
4. Cosmetic Bonding
Bonding is perfect for patients who have minor flaws, like gaps or cracks, and want an affordable way to treat them. Your dentist can apply a composite resin to the flaws in your tooth and use it to literally sculpt your tooth into a more desired shape, size, and color.
5. Crown Lengthening
Perhaps your uneven smile isn't caused by misaligned teeth, but excessive gum tissue. This creates what's known as a "gummy" smile. Luckily, your dentist can perform what's called a crown lengthening procedure, where your gum tissue is trimmed down and evened out to reveal more of your beautiful natural tooth structure underneath.
The new year is the perfect time to get your smile beautified by your cosmetic dentist in Wharton. Schedule a consultation today to get the smile you want just in time for 2020!
About the Author
Dr. Phil Tiet obtained his doctorate at the University of Texas School of Dentistry in Houston. He has been practicing dentistry for almost a quarter of a century, and currently practices in Wharton, TX. He has completed training for several cosmetic services, such as Invisalign, Lumineers, and Botox. To learn more about how Dr. Tiet can help revitalize your smile this holiday season, you can contact his office at (979) 532-1920.
Comments Off

on Get Your Smile Ready for the New Year with These 5 Cosmetic Treatments
No Comments
No comments yet.
RSS feed for comments on this post.
Sorry, the comment form is closed at this time.