November 3, 2019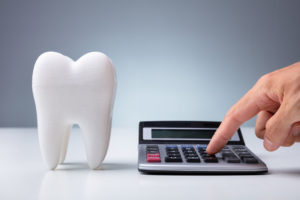 Nobody likes to lose money, whether on the stock market or in a friendly game of cards. Yet, according to a study by the American Dental Association (ADA), 164 million Americans lose hundreds of dollars in dental insurance benefits each year by not taking full advantage of their coverage. Under most dental insurance plans, unused benefits expire at the end of the year. Want to know how you can avoid losing out on the benefits you have already paid for? Below is a brief primer on how dental insurance works and how you can maximize your dental insurance benefits in 2019.
What Does My Dental Insurance Cover?
Similar to how general health insurance helps patients afford doctor appointments and medical procedures, dental insurance is designed to reduce individuals' overall dental care costs. So, what does your dental insurance cover? While every insurance plan is slightly different, most cover the following services:
100% coverage for preventive care, such as periodic X-rays, routine dental exams and professional cleanings
70% to 80% coverage for basic services, such as fillings and simple extractions
50% coverage for major restorative care, such as crowns, bridges, root canals and more
Why You Should Max Out Your Annual Maximum
An annual maximum is the total amount of money your dental insurance provider will pay for your dental care within one year. Because dental insurance benefits do not roll over into the new year, not reaching your annual maximum is essentially like leaving money on the table. Yet, surprisingly, less than 3% of individuals with PPO dental plans typically reach or exceed their plans' annual maximum, according to the National Association of Dental Plans.
Don't lose the insurance benefits for which you have already paid! Whether you have $75 or $700 remaining before you hit your annual limit, take advantage of your benefits by scheduling dental treatment before the end of the year.
Preventive Care is 100% Worth It
As noted above, preventive dental care is usually covered 100% by dental insurance. This means scheduling a routine checkup before the end of the year will likely cost you $0 out-of-pocket. In addition to brushing diligently at home and flossing every day, the American Dental Association recommends visiting a dentist twice a year to maintain a healthy smile. Biannual dental exams and cleanings are the best way to prevent minor issues from going untreated and potentially developing into serious problems later down the road.
Changes in the Future?
Compared to medical insurance, dental insurance policies change much more frequently. So, if you like your current coverage, you may want to act soon and schedule that dental treatment you have been putting off – before new premiums, deductibles and other benefits may be applied at the beginning of the new year. Otherwise, the same procedure you would elect now could end up costing you more in 2020 if your insurance plan changes!  
There is still time left this year to maximize your dental insurance benefits. For assistance navigating the particulars of your plan, do not hesitate to contact a dentist in Wharton today!
About the Author
Dr. Phil Tiet strives to provide affordable quality dental care to the Wharton community. His conveniently-located practice, Wharton Dental, is in-network with many leading insurance providers, including Ameritas, Delta Dental, Humana, Medicaid and more. Visit the Wharton Dental website or call 979-532-1920 to learn more about how to maximize dental insurance benefits in 2019.
Comments Off

on Do You Know How to Maximize Dental Insurance Benefits?
No Comments
No comments yet.
RSS feed for comments on this post.
Sorry, the comment form is closed at this time.