July 15, 2019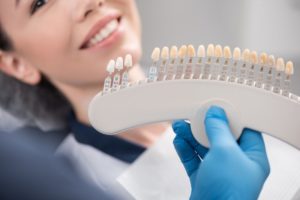 First impressions are fast: within the first seven seconds, you will have a solid impression of the person you're meeting. While you're more than just your looks, it's only human to base impressions off of appearance. Having a flawed smile may lower your self-confidence and make you hesitant to meet new people — but don't give up hope! Porcelain veneers in Wharton can help you restore your smile. In this post, your dentist will list the top 5 things you should know about the process.
Porcelain Veneers 101
When considering porcelain veneers for your smile, keep the following in mind.
The Right Dentist is Everything
Porcelain veneers are an aesthetic procedure and your results will depend on which dentist you choose. Review your potential practitioners' work — a good cosmetic dentist will have before-and-after photos available either online or in their office. Research their experience and qualifications. Many skilled cosmetic dentists have completed special continuing education courses and/or are a part of cosmetic dentistry organizations.
Porcelain Veneers Can Address a Variety of Issues
Whether you simply want to change the look of your smile or need to correct a dental imperfection, porcelain veneers can help you. They can fix crooked teeth, bypassing the need for braces (or repeating said orthodontic treatment). Veneers are a permanent tooth whitening option and fix stains that even professional whitening cannot. Chipped or cracked teeth are another common issue fixed by veneers.
Every Case is Unique
From the number of veneers placed to the procedure style, veneers are tailored to your individual needs. You can have your entire mouth done or only a few teeth. You can get partial veneers that don't cover your entire tooth or full veneers for complete coverage. In some cases, the veneers are placed right on top of your teeth. Other times, your dentist will need to shave off at most .5 millimeters of your enamel to best fit the veneer to your tooth.
You Get A Test Run
Porcelain veneers are a permanent procedure, so you are given temporary ones to make sure you will enjoy your results. After a mold of your teeth is taken, your temporaries are designed from a liquid composite and worn for 7 to 10 days. This period allows you to live with your new smile and make note of any changes you desire.
You Have to Take Care of Your Veneers
Porcelain veneers are an investment that you want to care for properly. Make sure to brush and floss daily. Don't bite on hard non-food objects (including fingernails) or try to open packages with your teeth. Consider wearing a mouthguard if you grind your teeth in your sleep and make sure to visit your dentist twice a year for regular checkups.
Your smile is an important part of you — one that you should feel confident about. Contact your cosmetic dentist in Wharton to see if porcelain veneers are right for you.
About the Author
Dr. Phil Tiet has almost 25 years of experience practicing dentistry. He values the importance of keeping up with the latest dental developments and has completed multiple continuing education courses. If you have further questions about porcelain veneers, he can be reached through his website or at 979-532-1920.
Comments Off

on 5 Things You Should Know Before Getting Porcelain Veneers in Wharton
No Comments
No comments yet.
RSS feed for comments on this post.
Sorry, the comment form is closed at this time.