May 16, 2019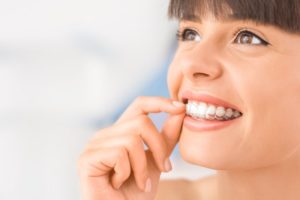 If you have gapped, crowded, crooked or misaligned teeth, then treatment with Invisalign in Wharton provides a way to finally have the smile you've always wanted. You stand to gain much more, though. As you continue reading, learn about 9 other benefits of having your teeth straightened with Invisalign!
What are Invisalign Aligners?
Also called clear braces, Invisalign aligners are transparent plastic trays that fit snugly in your mouth, and they gradually and comfortably adjust your teeth until they are properly aligned. The process starts with your dentist capturing digital images of your smile that are used to create a custom treatment program that is sent to a certified Invisalign lab.
A series of trays will be fabricated, each set to be worn for two weeks and then exchanged for the next pair in the series. This pattern will be followed until the last set of trays are worn.
While this procedure leaves you with a beautiful smile without the hassle of wearing bulky metal braces, you stand to gain even more from the process.
#1 – Improved Oral Health
Straight teeth are more accessible. That means you'll be able to more effectively brush and floss to prevent bacteria growth.
#2 – Correct Jaw Positioning
When your teeth are misaligned, it can eventually contribute to temporomandibular disorder (TMD), which is the painful inflammation of the joint that opens and closes your mouth. Having properly aligned teeth can aid significantly in the recovery process.
#3 – Improved Digestion
Straight teeth will more effectively break down the food you eat. Thus, you can expect better digestion.
#4 – Stronger Bone Structure
Malocclusion (a bad bite) can also cause the supporting bone to become crooked, which can lead to gum health problems. A simple defense, though, is to have the teeth straightened with Invisalign aligners.
#5 – A Way to Combat Bruxism
Misaligned teeth can contribute to a painful condition called bruxism (teeth grinding), as tension is unevenly distributed. Having straight teeth can aid in relieving this problem, though.
#6 – Prevention of Back and Neck Pain
In addition to bruxism, malocclusion can also lead to back and neck pain. This is because the human body functions in a symbiotic manner that requires balance throughout.
Therefore, correcting your bite could be a secret to alleviating discomfort in the back and neck.
#7 – Improved Speech
The position of your teeth plays a significant role in your ability to speak properly. Once your teeth are aligned correctly with Invisalign, you can expect your pronunciation to greatly improve.
#8 – Shorter Dental Visits
Not only will you be able to more effectively clean your teeth when their straight, you'll also make your dental hygienist's job easier. Thus, you can expect shorter dental visits.
#9 – Aligners as Protectors
In addition to fixing your bite, your aligners also provide a form of protection from nighttime bruxism and from collisions during sporting events that could otherwise result in a dental emergency.
With this information, you can now reach out to your dentist in Wharton with the confidence of knowing that once your bite is corrected, you'll be able to enjoy a brand-new life!
About the Author
Since graduating from the University of Texas School of Dentistry at Houston, Dr. Phil Tiet has gone on to notch 24 years of experience in the dental field. He helps his patients experience the thrill of having a beautiful and functional smile by providing orthodontic treatment with Invisalign at Wharton Dental, and he can be reached for more information through his website.
Comments Off

on 9 Perks of Invisalign in Wharton Above and Beyond Just Aesthetics!
No Comments
No comments yet.
RSS feed for comments on this post.
Sorry, the comment form is closed at this time.