December 7, 2018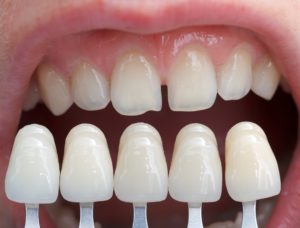 Your teeth play an important role in your life. While they are necessary for chewing and speaking, they also impact your self-esteem. If you are among the one-third of adults who dislike their teeth, you probably have a poor self-image. This can cause you to avoid certain social or professional settings because you worry about having to show your teeth when eating, speaking, or smiling. You do not need to hide behind your imperfections. You can transform your smile and your confidence with veneers in Wharton, TX.

What are Veneers?
Veneers are one of the most popular cosmetic dentistry treatments because they are effective for correcting several issues using one procedure. By attaching the thin, custom-made shells to the front surfaces of your teeth, you instantly improve their color, shape, size, and proportion. Now, several advancements to the materials used make the treatment less invasive because more of your tooth's structure is kept intact.
How Can Veneers Help Me?
36% of adults feel they would have a better social life if they had attractive teeth. You can invest in your confidence and your outlook on life with veneers. They can cover several issues to drastically improve your teeth. They are often used to hide dark tooth discoloration that will not respond to traditional whitening treatments.
If you live with chipped, cracked, shorter than average, or abnormally shaped teeth, veneers will improve their size and shape to create a harmonious smile. You can also cover alignment concerns without having to spend months wearing braces, like gaps and minor overcrowding.
What Can I Expect?
You require a consultation with your cosmetic dentist to ensure you are a candidate for the procedure. An individualized treatment plan is used to strategically enhance your teeth.
Your teeth are cleaned and a small amount of enamel is removed to ensure the veneers sit flush. Digital impressions of your mouth are taken design your new smile. The dental lab crafts your veneers with precision, which can take a couple of weeks. Your dentist will attach temporary ones while you wait. In a couple of weeks, your permanent veneers are ready to be bonded to your teeth.
How Long with My Smile Last?
Although veneers are thin, they are durable. They will last for an average of 10 years before needing to be replaced if you take the time to care for them properly. To promote their longevity:
Use a soft-bristled toothbrush and nonabrasive toothpaste.
Floss daily.
Do not use your teeth as tools.
Do not chew on inedible objects.
Wear an athletic mouthguard when playing sports.
Do not chew or bite overly hard foods.
Visit your dentist twice a year.
Invest in Your Confidence!
Veneers can help you transform your life with natural-looking results that last.
About Dr. Phil Tiet
For over 24 years, Dr. Phil Tiet has created healthy, flawless smiles. Besides general dentistry, he also offers specialty treatments, like cosmetic dentistry. He will help you achieve a radiant smile using the latest solutions, like veneers. Contact our office today to schedule your consultation.
Comments Off

on Transform Your Smile with Veneers in Wharton, TX
No Comments
No comments yet.
RSS feed for comments on this post.
Sorry, the comment form is closed at this time.