October 12, 2018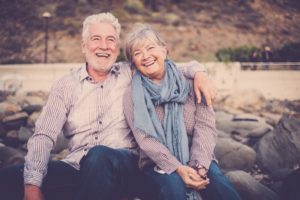 When you have multiple missing or failing teeth, it presents a lot of complications for your daily life that most of take for granted. For example, eating and chewing the foods you would typically enjoy becomes challenging and even painful sometimes when you can't chew properly. Not to mention the embarrassment you may feel when speaking with other people. Living with missing teeth takes a toll on your confidence and self-esteem, but you should know that your dentists in Wharton, TX have excellent solutions to restore both function and aesthetics to your smile.
What is a Denture?
Dentures are removable appliances made of acrylic that are designed to replace an entire arch of teeth. They rely on a secure fit and suction to your jawbone to stay in place.
Today's dentures are designed keeping your skin tone and facial structure in mind, so they naturally enhance your appearance and immediately restore your smile. Many patients experience a learning curve as they first get used to eating and talking with their dentures as there can sometimes be movement or slippage.
What is a Partial Denture?
A partial denture is an excellent option for patients who still retain a large number of healthy teeth. Partials fill in the open spaces with prosthetic teeth that are attached to a removable appliance that use metal clasps to anchor to your remaining teeth. Partials also restore function, as well as aesthetics as they are customized to match your surrounding teeth.
Implant-Supported Prosthetics
Dental implants can be used to support both dentures and partials to offer additional support and a more secure fit. A few dental implants are intentionally placed to support a denture designed to attach to them.
The use of dental implants offers denture wearers the most secure fit available that eliminates any movement or slippage when you're talking or eating. They also provide the additional benefit of keeping your bone healthy and stimulated, which protects against the deterioration that occurs when your bone supports a traditional denture.
If you would like to learn more about dentures in Wharton, contact your dentist today to schedule a consultation.
About Wharton Dental
Dr. Phil Tiet and Dr. Fadi Haikal have combined their talents for over a decade to bring patients in Wharton, TX exceptional dental care and excellent customer service. Patients will find that treatment is personalized for their unique needs when they choose Wharton Dental for their care and delivered by dentists who are both gentle and compassionate.
If you would like to contact our dentists, they can be reached by calling 979-532-1920 or through our website.
Comments Off

on Replace Missing Teeth With Dentures From Your Dentists in Wharton, TX
No Comments
No comments yet.
RSS feed for comments on this post.
Sorry, the comment form is closed at this time.