September 20, 2018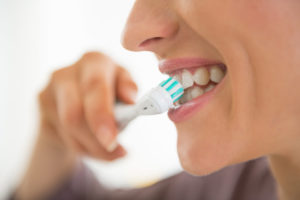 Popularized by the author Malcolm Gladwell, the "10,000-hour rule" dictates that to become an expert in any field – classical violin, professional basketball, or even neurosurgery – you must dedicate 10,000 hours of practice in pursuit of your craft. Thankfully, being an expert in good oral hygiene does not require 10,000 hours of brushing your teeth. Instead, you can just read the 4 tips below from a dentist in Wharton, TX on how to be world-class at maintaining a healthy smile.
Use the Proper Brushing Technique
Brushing your teeth twice a day is a key part of practicing good oral hygiene, but it is important to use the proper brushing technique when doing so.
Be sure to place your toothbrush at a 45-degree angle to the gums. Harmful plaque can build up on any side of a tooth, so spend at least 30 seconds brushing the outer, inner and chewing surfaces of your teeth.
In addition, you should always brush in small, tight circles when cleaning your teeth, as they allow you to get into the spaces between teeth much better than long strokes.
Take Your Time
When it comes to maintaining a healthy smile, faster does not equal better. The American Dental Association recommends brushing for two full minutes to thoroughly clean your teeth. If you easily lose track of time, consider setting an alarm on your phone or switching to an electric toothbrush that can automatically alert you when your time is up.
Apply the Right Amount of Pressure
Applying too much pressure with your toothbrush can wear away the tooth enamel and cause your gums to recede, which in turn can lead to tooth sensitivity.
If you are not certain if you are brushing too hard, take a look at your toothbrush. If it is relatively new but the bristles already appear frayed and flat, that is a sure sign that you are applying too much pressure.
Don't Forget to Clean Your Tongue
Your teeth are not the only thing in your mouth that deserves a good cleaning – brushing your tongue once a day will also help keep your mouth feeling refreshed. The tiny bumps on your tongue can collect bacteria, tiny food particles and dead skin cells, which can lead to bad breath, discoloration and plaque and tartar buildup after the bacteria is redeposited onto your teeth and gums. To keep your tongue fresh and bacteria-free, gently scrub it once a day from back to front with a moistened toothbrush.
It does not take 10,000 hours of practice to become skilled at cleaning your teeth. Just follow the 4 simple tips above and make regular trips to the dentist to maintain a healthy and whole smile.
About the Practice
Dr. Phil Tiet has been helping patients feel better about their mouths and their smiles for over two decades. Thanks to additional training, he is able to offer a variety of specialized dental treatments to patients at Wharton Dental, including Invisalign, Lumineers and Robert Gerty Straight Wire Orthodontics, among others. For more oral hygiene tips from the team at Wharton Dental, visit their website or call the office at 979-532-1920.
Comments Off

on 4 Tips for a Healthy Smile from a Dentist in Wharton, TX
No Comments
No comments yet.
RSS feed for comments on this post.
Sorry, the comment form is closed at this time.