July 2, 2018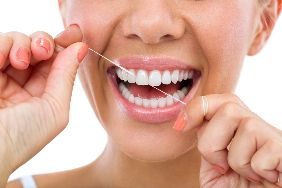 Flossing is kind of like exercise. Everyone knows they should do it regularly, but most people have good phases and bad phases with it. It's completely understandable since life is so busy. It can really make doing that one last thing at the end of the day extra challenging. But the fact remains that brushing only gets part of the job done (even really good brushing), so flossing is crucial for good oral health. Fewer cavities and healthier gums mean less time spent in the dental chair – which everyone can agree is a good thing. Keep reading for 3 of the best tips for flossing and getting the most out of your hygiene routine from a dentist in Wharton, TX!
1. Strive for Better, Not Perfect
It's not uncommon for patients to leave their checkup appointment and feel really motivated to keep their teeth clean. They floss every day for a week or two but then miss a day and decide to throw the towel in.
To avoid this common trap, aim to floss 4-7 times a week. If you start out with a goal of better, instead of perfect, you won't get discouraged and give up entirely.
Also, another reason that flossing is difficult for some people is that dentists recommend they do it when they're the most tired – at bedtime.
While there's no denying that's the best time to floss, it can actually be helpful to brush and floss a bit earlier in the evening, like right after dinner. Although it's just a few hours difference, you'll probably have a lot more energy and motivation!
2. Floss the Right Way
Try flossing this way at home and don't hesitate to ask for a demonstration from your dentist at your next checkup:
Using around 18 inches of floss, wrap one end around your index finger.
Using just the thumbs and index fingers of both hands, work with a small piece at a time, between 1-2 inches.
With a back-and-forth, or seesaw, motion move the floss past the contact point where the teeth touch. This way, you avoid "snapping" the floss, which can be uncomfortable.
Once you've gotten past the contact point, stop using the seesaw motion. Wrap the floss around the tooth in a C shape, and gently move it under the gumline in an up-and-down
Always move to a new, clean piece of floss to avoid transferring bacteria between teeth.
3. Use the Right Kind of Floss For You
The main rule here is to use the floss that you like the most! Having said that, try to use either a sticky, waxed floss or a thick, woven floss because these varieties are more effective at removing plaque from between the teeth.
For people with tight teeth, there are some slick, smooth types of floss that work well. However, this kind of floss is actually so slick that it doesn't grab onto and remove plaque as well as other types, so only use it if you must.
There's no denying that it takes effort to make flossing a habit, but the benefits to your oral health make it well worth it!
About the Author
Dr. Phil Tiet is a general, cosmetic and restorative dentist in Wharton, TX who knows that good hygiene habits help his patients avoid extensive dental work. He always takes the time to help his patients who struggle with brushing and flossing so they can maintain the best oral health possible. If you have any questions, he can be contacted via his website or at (979) 532-1920.
Comments Off

on 3 Top Tips For Better Flossing From a Dentist in Wharton TX
No Comments
No comments yet.
RSS feed for comments on this post.
Sorry, the comment form is closed at this time.