June 22, 2018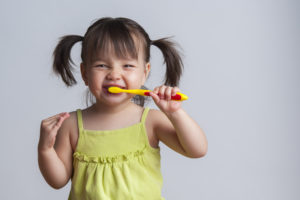 As a parent, one of your concerns is the wellness of your young child, which includes his or her oral health. You wonder, "How can I protect my little one from the dangers of tooth decay and other dental health problems?" Your children's dentist in Wharton says the answer is simple; introduce the lifestyle of oral health to your child at an early age and those positive habits will carry over into adulthood. Learn what you should be teaching your child and why it's so important as you read on.
Teach Your Child the Importance of Oral Hygiene
Without using any fear tactics, you should share with your kiddo, at an early age, the importance of practicing excellent oral hygiene. Let him or her know how important these efforts are for protecting the mouth and teeth from bacteria critters. This type of language gives the child a sense of purpose and responsibility without instilling any fear that could become crippling or make him or her rebellious.
What Habits Should I Teach?
After instilling the importance of practicing excellent oral hygiene, you should teach your child the following:
How to Brush Properly – Once your child starts eating solid food, his or her chances of developing cavities increases exponentially. To prevent any early tooth decay, demonstrate, using a doll, how to brush the teeth properly and then let your little one practice before actually brushing his or her teeth. By making the process fun, you'll have less problems getting him or her to maintain the necessary frequency of twice daily brushing.
How to Floss the Right Way – A little later on, you can start introducing your child to proper flossing techniques because it requires a little more coordination to complete. Again, by using your creativity and making it fun, your child will be more likely to maintain this very important routine.
The Importance of Dental Visits – The best way to teach your children about the importance of visiting the dentist is to introduce them to this habit early in life. This helps to prevent the anxieties and phobias that can very well carry over into adulthood about visiting the dentist.
The Power of Taking Action
This whole process is very simple; it's about taking action to create a positive reality for your child's oral health future. When he or she is an adult, your efforts will be greatly appreciated, because your child will be able to reflect on the work you did to instill good habits.
To get help in your quest for excellent oral health, reach out to your local dentist to schedule a checkup. The road to healthier teeth and gums for your kiddo starts today!
About the Author
With over 24 years of experience in the dentistry field, Dr. Phil Tiet is passionate about seeing his patients achieve the absolute best oral wellness. A graduate of the University of Texas School of Dentistry at Houston, he specializes in a host of dental procedures. If you want help in getting your child off to a great dental care start, you can visit Dr. Tiet at Wharton Dental, and he can be contacted through his website.
Comments Off

on Your Children's Dentist in Wharton Says Teach Oral Care Habits Early
No Comments
No comments yet.
RSS feed for comments on this post.
Sorry, the comment form is closed at this time.